With Russell Crowe playing Noah, Paul Verhoeven bringing us Jesus and Warner Bros tackling Moses, the movies are well and truly back in the good book.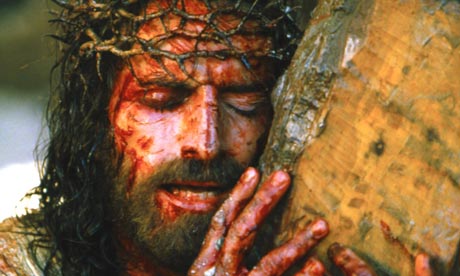 Thorn again … Jim Caviezel as Jesus in Mel Gibson's The Passion of the Christ (2004). Photograph: Newmarket/Everett/Rex Features
The good book is back in showbiz. Darren Aronofsky has a bearded Russell Crowe for Noah. The documentary Bible Quiz is in post-production. Will Smith's directorial debut will be Cain and Abel (reportedly with a vampire twist). Paul Verhoeven's Jesus of Nazareth has its finance in place. Justin Theroux is rewriting Swear to God – a comedy about a hedge-fund manager who has seen the Almighty. Ridley Scott, Warner Bros – with a rumour of Spielberg directing – and the Chernin Entertainment Company all have Moses movies. Mary Mother of Christ, a film about the life of Jesus up to age 12, is currently prepping, as is Langston Hughes's Black Nativity, with a cast of Samuel L Jackson, Angela Bassett and Jennifer Hudson. And earlier this week, a Pontius Pilate movie was greenlit.
Given the preponderance of reboots and remakes, it is no surprise that Hollywood is going back to the greatest story ever told, the source for many of its successes of the 20s and 50s. Adjusted American box-office records show that four of the top 100 most successful films have a biblical theme: The Ten Commandments (1956), Ben-Hur (1959), The Robe (1953) and The Passion of the Christ (2004). That The Passion of the Christ is the only one in the global top 100 (at 68, with earnings of $611m worldwide) would suggest it is the last gasp of an exhausted genre.
Ralph Winter, producer of such big ticket hits as X-Men and Star Trek disagrees. "Studios are looking for timeless product and the Bible provides that. These stories are also public domain, so the studios can get recognition without paying for the rights. Bible stories like the ten commandments have been produced many times over; there is a large audience and the stories are familiar."
A well-produced and precisely marketed Bible film could seize the 75% of Americans who call themselves Christians who also say they see a film every month. "There is a potentially huge audience among this faith-based population," says Bart Gavigan, writer, director, sought-after script doctor and adviser to Robert Redford's Sundance Institute and British Screen in Europe. "In terms of tent-pole these Bible stories, though faith-based in origin, are known to the whole world, albeit as myths."
Biblical settings can afford film-makers a unique, exciting "anything can happen" environment, upping the ante on superheroes (who could be a bigger superhero than God?) and allowing something portentous to happen within the entertainment. According to Norman Stone, it's about time. "We are coming to the end of comic book possibilities." As the director of the popular TV documentary, KJB: The Book that Changed the World and the breakthrough film Shadowlands, which centred on the life of CS Lewis, Stone believes that "even in their half-remembered context, these stories resonate on a deeper level. You can't say all we are is a bunch of atoms. We don't feel that that sums us up. We wonder about why we're here – but films haven't addressed that question for a while."
The currently in-production Mad Max: Fury Road, along with I Am Legend and Children of Men, can all be said to have religious purpose buried deep at the heart of them. Films often carry "religious" undertones and can be seen as a kind of worship, away from the more traditional religious places.
This is why modern moviegoers won't sit through lumbering message movies anymore; the days when Peter O'Toole could appear simultaneously as three angels are past. Even Gibson's The Passion of the Christ was an event movie that courted controversy and got bums on seats, believer and non-believer alike. As Gavigan says: "A literal approach to history and historical characters will miss the audience. A more dramatic, genre-driven approach is now the norm."
Is Hollywood, however risk-averse, now wanting to show meaning behind all that smiting? "As the cost of making studio movies and attracting audiences gets more expensive and more risky, distributors are looking for proven ideas and brand awareness. Bible stories are a good solution," says Winter, who also produces films for the Christian market and is currently developing a highly anticipated version of CS Lewis's The Screwtape Letters. "But I don't think there is some kind of spiritual renewal or movement that is precipitating these kinds of movies."
If not, perhaps the real zeitgeist behind Hollywood's Bible boom is a simple metaphysical message of hope and faith that neither Batman nor Iron Man can match: in these times of economic and environmental uncertainty, it can't hurt to pray a little in the dark.